About SES
Incorporated in 2012, Sunita Engineering Solutions specializes in:
Machinery Design and Manufacturing
Customized Solutions
Heavy Equipment Erections
Mechanical Work, AMCs
Value Proposition:
High Quality & Tested Raw Materials
Best in class imported components
Adhering to International Quality Standards
Built in Safety Features for Safe Operations
Prompt & efficient service
The Workshop
Over 6,000 sq. ft. of covered space equipped with all requisite machinery & over-head crane. The machining shop is equipped with state of art machining equipments & tools.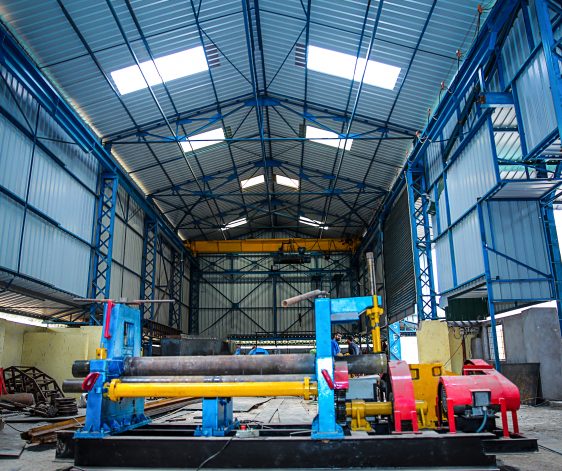 We specialize in custom designing & manufacturing of all types of equipments / machines as per client's requirements.
We also provide standard refractory application machinery. The catalogue for the same is given below.

Product Catalogue

Gunning Machines


Brick Cutting Machines


Mixer Machines


Spraying Machines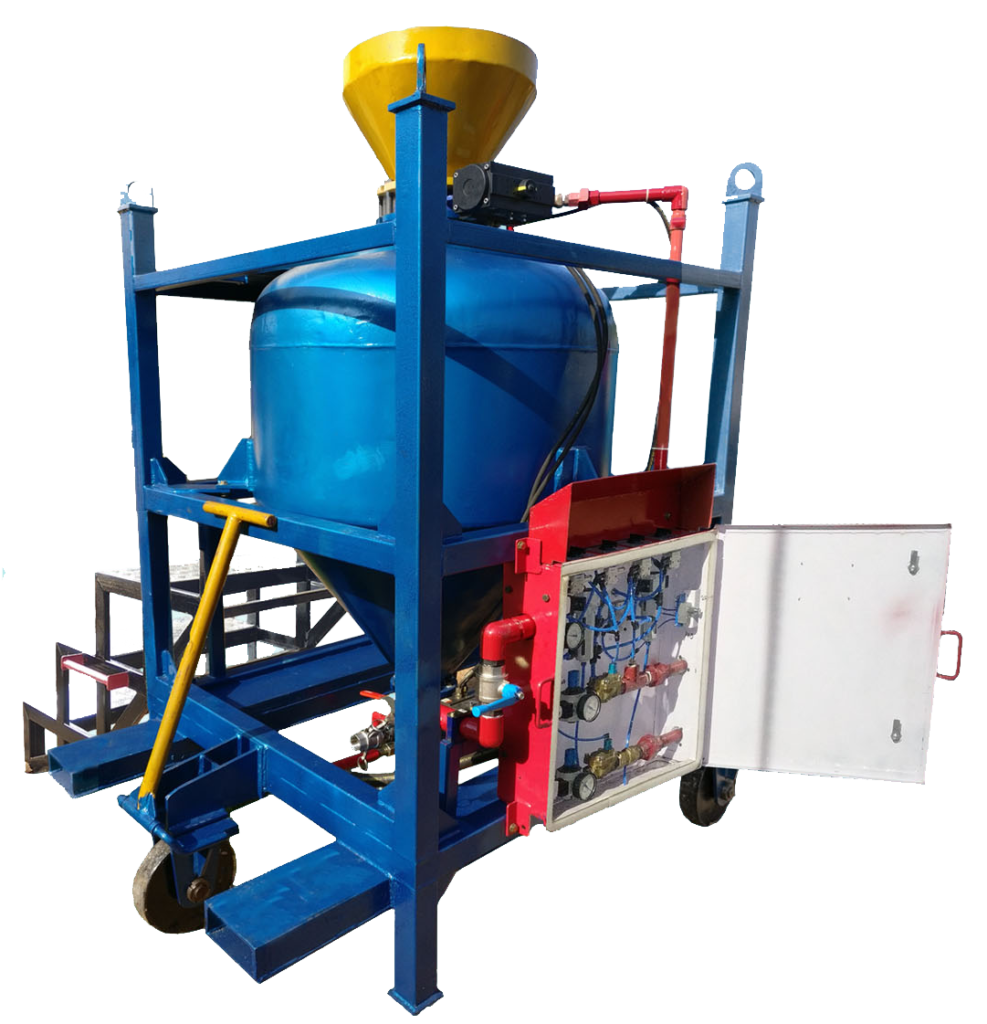 Pressure Vessel Gunning Machine (Semi Automatic) – 1000 Kg
Specifications
Holding Capacity                                                  1000 Kgs


---

Output Capacity                                                    7 m³/hr


---

Machine Dimension                                             1.8 x 1.5 x 2.4 m 


---

Pneumatic Rotary Actuator                                 8 inch


---

Feed Venturi                                                           2 inch


---

Pipes and Fittings (ISI-Mark)                                1 + 1/2 inch


---

All Control Valves from Festo                              Upto 1 + 1/2 inch


---

Delivery Hose 15 m                                               2 inch


---

Steel Wheels with Gun Metal Bushing               Dia 273 mm


---

Water Mixing Chamber                                         4 inch


---

Gunning Nozzle                                                      2 inch


---

Geometric Capacity                                               750 litres


---

Pull Bar                                                                    1 inch pipe


---

Weight                                                                     1000 kg
Design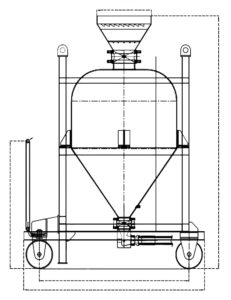 Pressure Vessel Gunning Machine (Semi Automatic) – 500 Kg
Specifications
Holding Capacity                                                 500 Kgs


---

Output Capacity                                                   7 m³/hr


---

Machine Dimension                                            1.3 x 1.0 x 2.0 m 


---

Pneumatic Rotary Actuator                                8 inch


---

Feed Venturi                                                         2 inch


---

Pipes and Fittings (ISI-Mark)                              1 + 1/2 inch


---

All Control Valves from Festo                            Upto 1 + 1/2 inch


---

Delivery Hose 15 m                                             2 inch


---

Steel Wheels with Gun Metal Bushing             Dia 273 mm


---

Water Mixing Chamber                                       4 inch


---

Gunning Nozzle                                                    2 inch


---

Geometric Capacity                                             300 litres


---

Pull Bar                                                                  1 inch pipe


---

Weight                                                                    600 kg
Design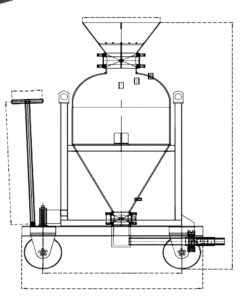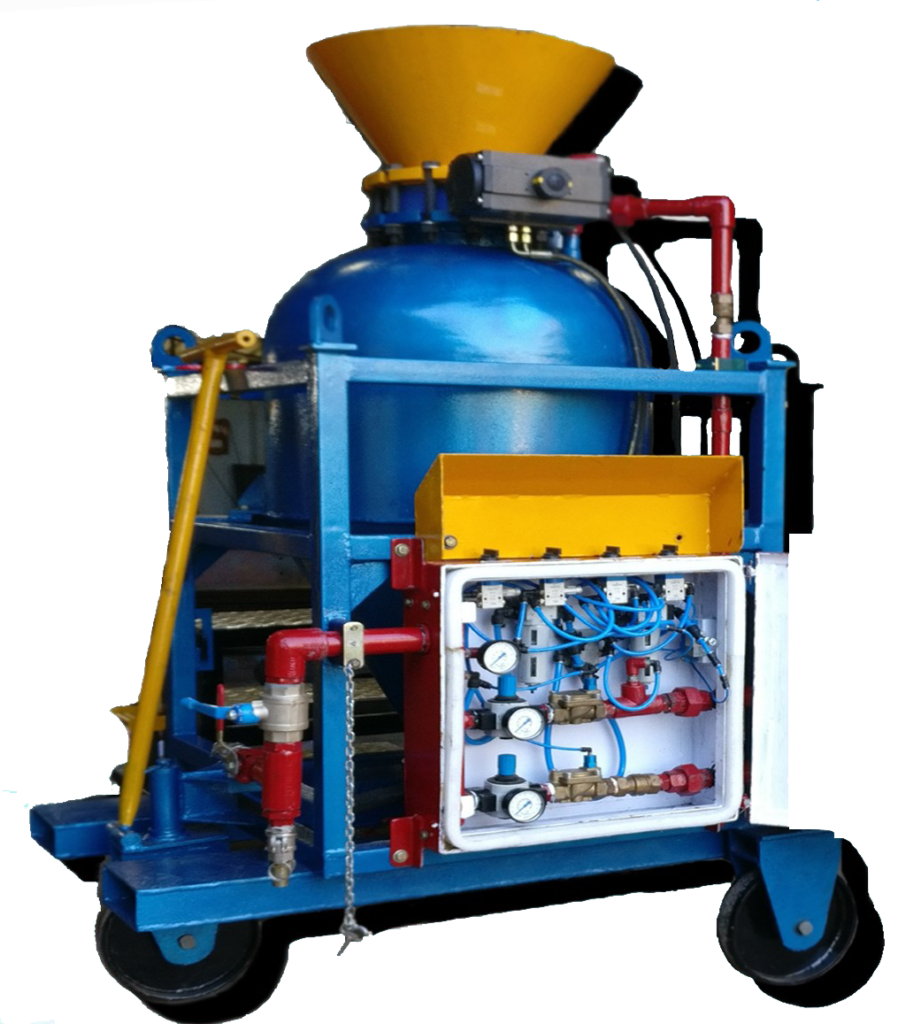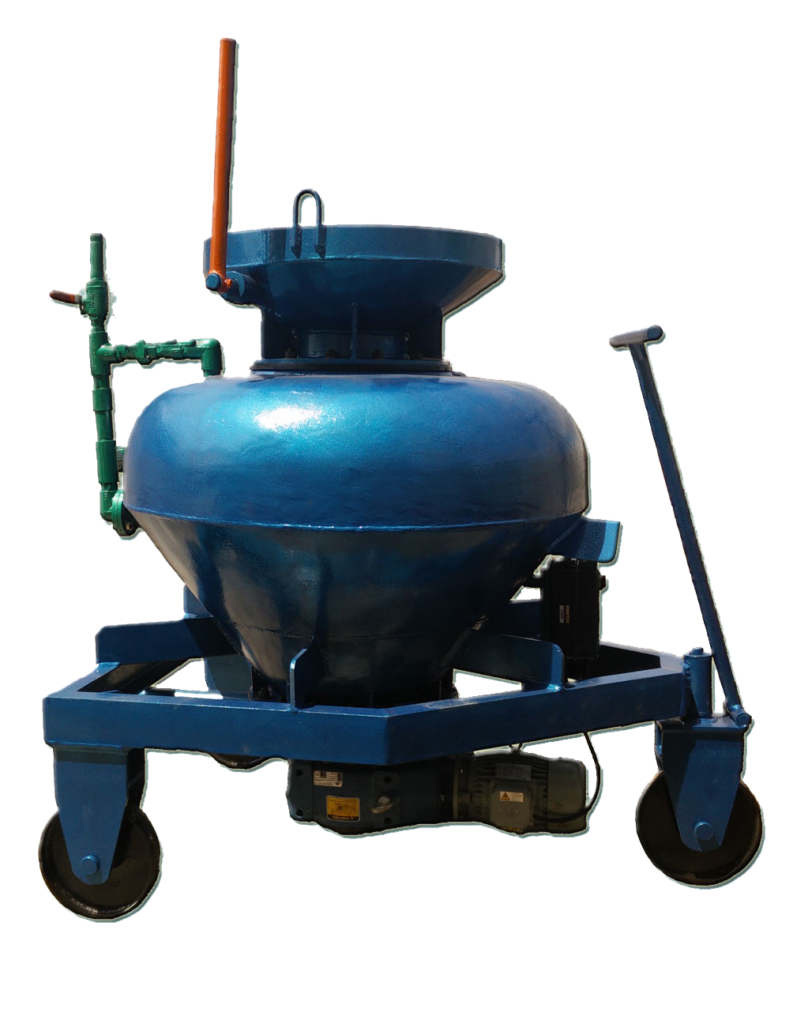 Single Tank Gunning Machine
Specifications
Geometric Capacity                                                            300 litre


---

Holding Capacity                                                                 500 Kg


---

Output Capacity                                                                   5 m³/hr


---

Machine Dimensions                                                          1 .5 x 1.1 x 1.5 m


---

REDN Gear Box Ratio (183:1)                                             3 Stage


---

3 Phase Elect A.C. Motor Crompton                                 2.2 Kw


---

D.O.L. Starter                                                                        4-6 Amp


---

Feed Wheel Shaft RPM                                                        10


---

Control Valves, Pipes & Fittings                                          1 + 1/2 inch


---

Delivery Rubber Hose with Fitting                                     1 + 1/2 inch


---

Steel Wheels w/ Gun Metal Bushing                                  Dia 280mm


---

Manual Flap Valve                                                                 Dia 321 mm


---

Gunning Nozzle Assembly with                                           1 + 1/2inch   Water Mixing Chamber


---

Weight                                                                                     650 Kg


---
Design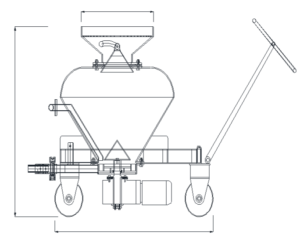 Double Tank Gunning Machine
Specifications
Geometric Capacity                                                            150 litre


---

Holding Capacity                                                                 250 Kg


---

Output Capacity                                                                   5 m³/hr


---

Machine Dimensions                                                          1 .3 x 0.9 x 1.4 m


---

REDN Gear Box Ratio (183:1) REDICON                           3 Stage


---

3 Phase Elect A.C. Motor Crompton                                 0.75 KW


---

D.O.L. Starter                                                                        4-6 Amp


---

Feed Wheel Shaft RPM                                                        10


---

Control Valves, Pipes & Fittings                                          1 + 1/2 inch


---

Delivery Rubber Hose with Fitting                                     1 + 1/2 inch


---

Steel Wheels w/ Gun Metal Bushing                                  Dia 273 mm


---

Manual Flap Valve                                                                 Dia 321 mm


---

Gunning Nozzle Assembly with                                           1 + 1/2inch  Water Mixing Chamber


---

Weight                                                                                     500 Kg


---
Design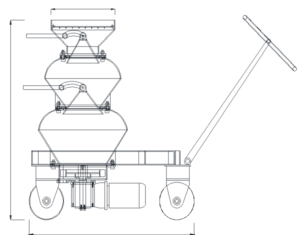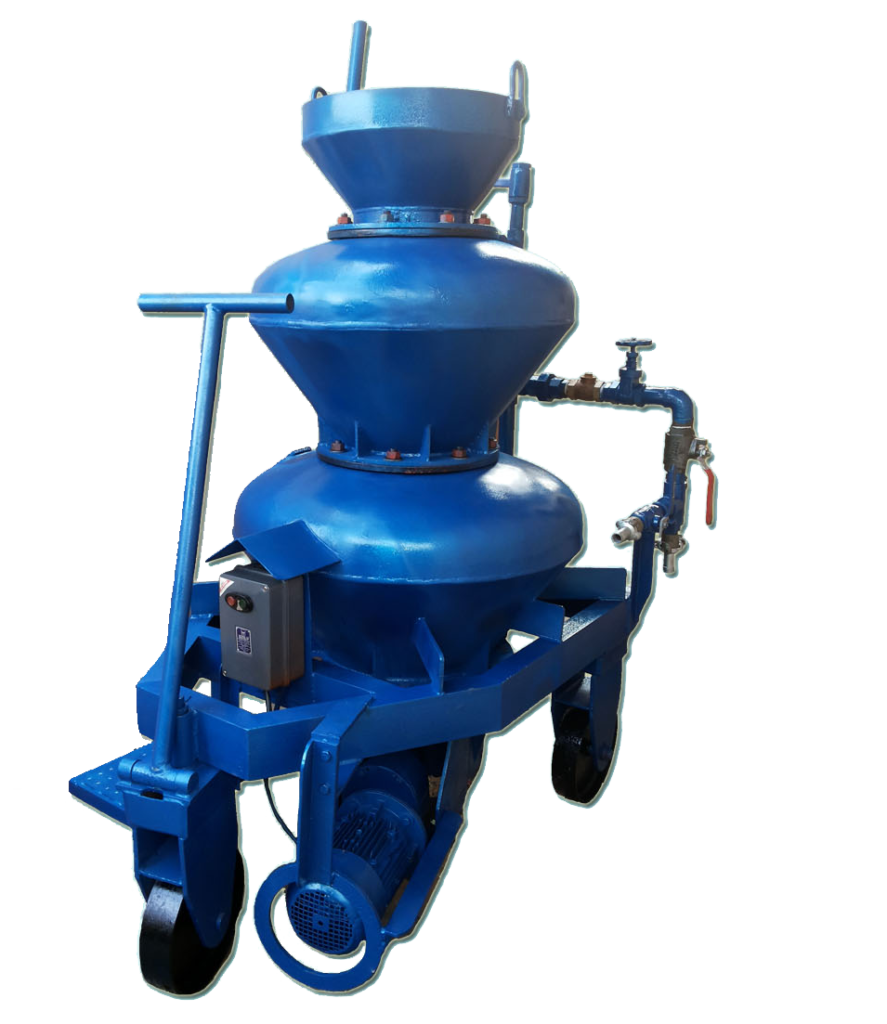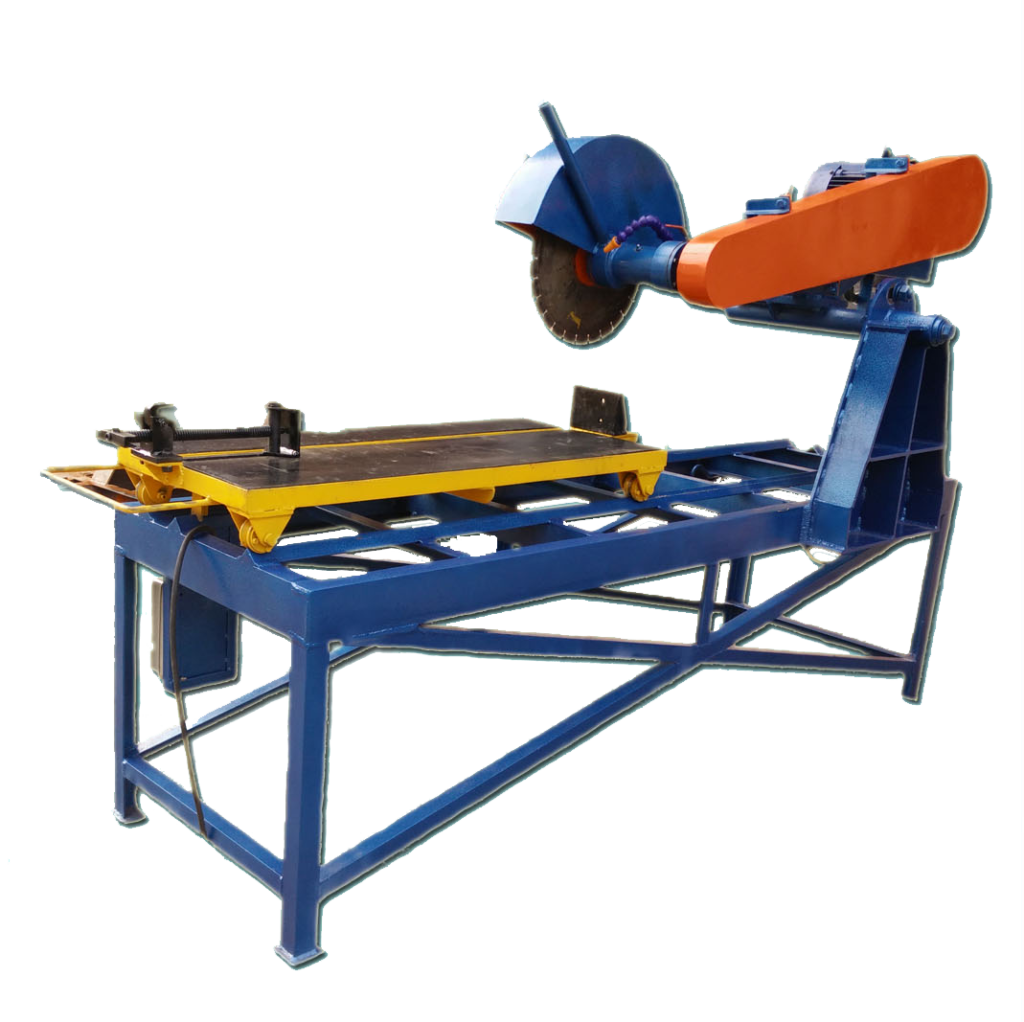 Converter Brick Cutting Machine
Specifications
Model                                                 BCM-C-20


---

Capacity (brick size)                         1000*300*185 mm


---

Drive Motor                                       5.0HP/ 3PH/ 415V/ 1440 RPM


---

Machine Dimensions                       2.3 x 0.8 x 1.6 m


---

D.O.L. Starter                                     6.9 AMP


---

Swevel Shaft                                      63 x 585 mm


---

Blade Shaft Housing                        120 x 260 mm diameter


---

Main Frame Size                               2300 * 800 * 700 mm


---

Brick Clamping Device                     Quick Release Type


---

Blade Shaft (dia 50 mm) RPM         2880


---

Centrifugal Coolant Pump               0.5 HP, Single Phase


---

Weight                                                400 kg 
Design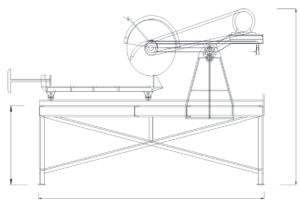 Ladle Brick Cutting Machine
Specifications
Model                                                              BCM – L20


---

Capacity (blade diameter)                            20 inch (500 mm)


---

Capacity (brick size)                                       300 * 200 * 190 mm


---

Machine Dimensions                                    1.7 x 0.7 x 1.7 m


---

Table Size                                                        1300 x 700 x 800 mm


---

Electric Supply (AC)                                        415 V, 3 PH, 50 Hz 


---

Blade speed                                                    2880 RPM


---

Motor (Spindle)                                              5 HP, 3 PH Sequireel Cage                                                                                            induction motor, 1440 RPM,                                                                                        415 V, 4.8 Amp 


---

Brick Loading Trolley                                    550 x 500 x 115 mm


---

V – Belt                                                             B – 71 Inch


---

Double Groove V – Pulley (Spindle)             B – 3 + 1/2 Inch


---

Double Groove V – Pulley (Motor)               B – 7 Inch 


---

Diamond Segmented Blade                        500 mm (20 Inch)                             (On Demand)


---

Weight                                                            250 Kg
Design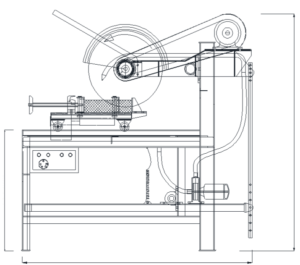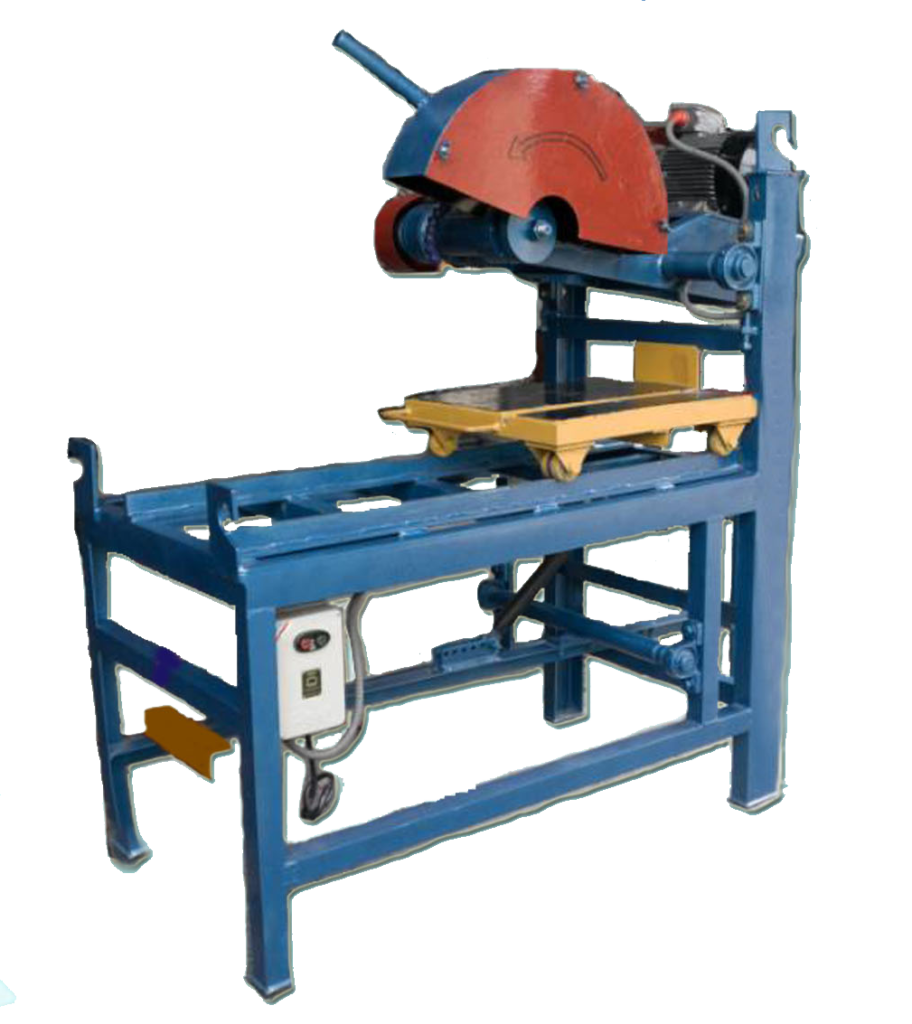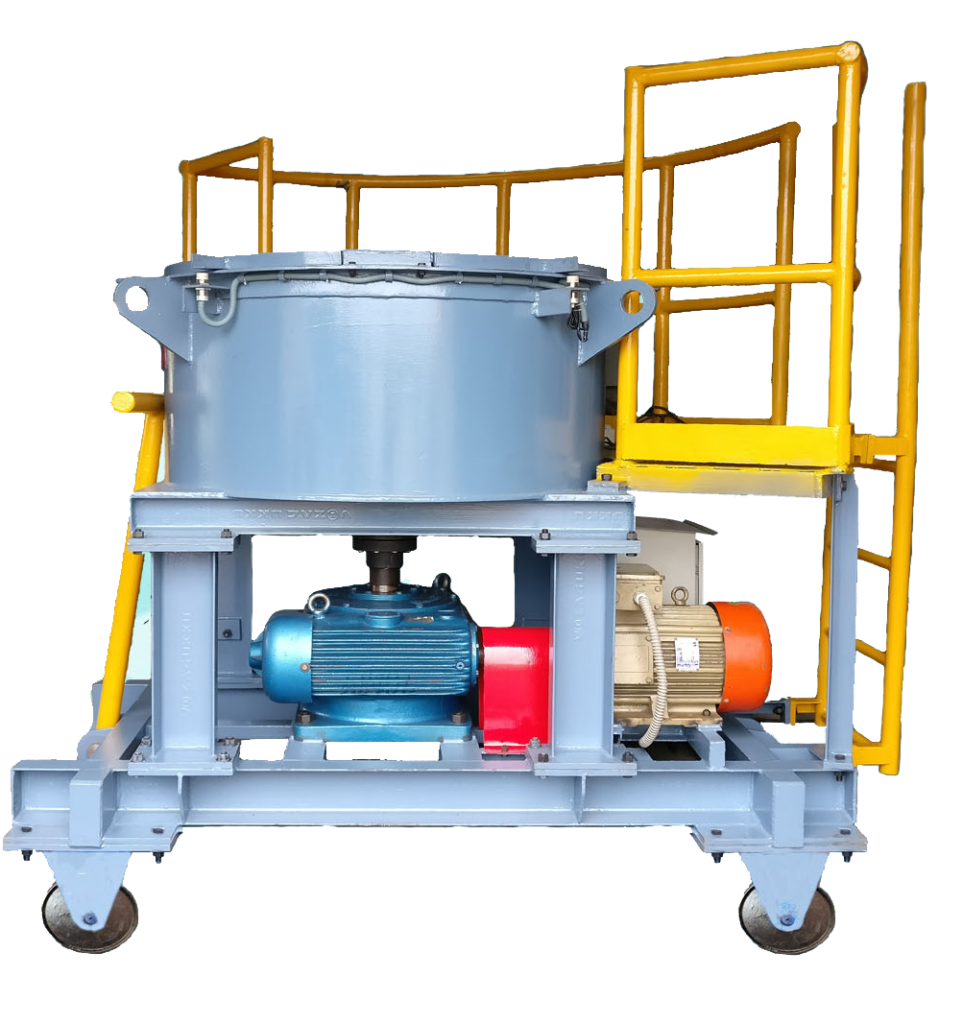 Pan Mixer Machine 500 PL
Specifications
Model                                                               PMM-500-PL


---

Mixing Capacity                                              500 Kgs/Batch


---

Machine Dimensions                                     2.20 x 2.00 x 1.78 m


---

Motor Capacity                                               20 HP, 1440 RPM


---

Electric Power Required                                415 V, 3 PH , 50 Hz


---

Drum Capacity                                                0.62 CUM


---

Plough Holder Arm Position                         @ 120 Degree


---

Maximum Power Consumption                   30 Amp       


---

Manual Discharge Gate                                 225 mm radius


---

Discharge Gate Design                                  CAM – plate type


---

Mixing Rotar Shaft Speed                             24 RPM


---

Load Bearing Capacity of Platform             0.5 T/m²


---

Total Weight                                                    1950 Kgs


---
Design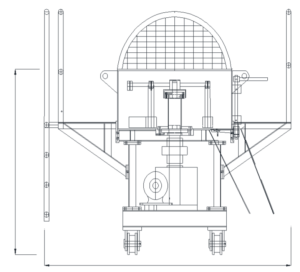 Pan Mixer Machine 500
Specifications
Model                                                               PMM-500


---

Capacity                                                           500 Kgs


---

Machine Dimensions                                     2.3 x 1.5 x 1.6 m


---

Motor Capacity                                               20 HP, 1440 RPM


---

Electric Supply (AC)                                        415 V, 3 PH , 50 Hz


---

M.C. RPM                                                         24


---

Pan Diameter                                                 1200 mm


---

Gear Box                                                         Shanti Gear Box, Type: FV 8                                                                                          Inch, Ratio – 60:1       


---

Coupling                                                          Pin Bush Coupling (Fenner)


---

Total Weight                                                   1500 Kgs


---
Design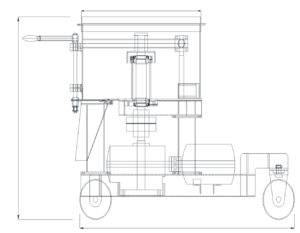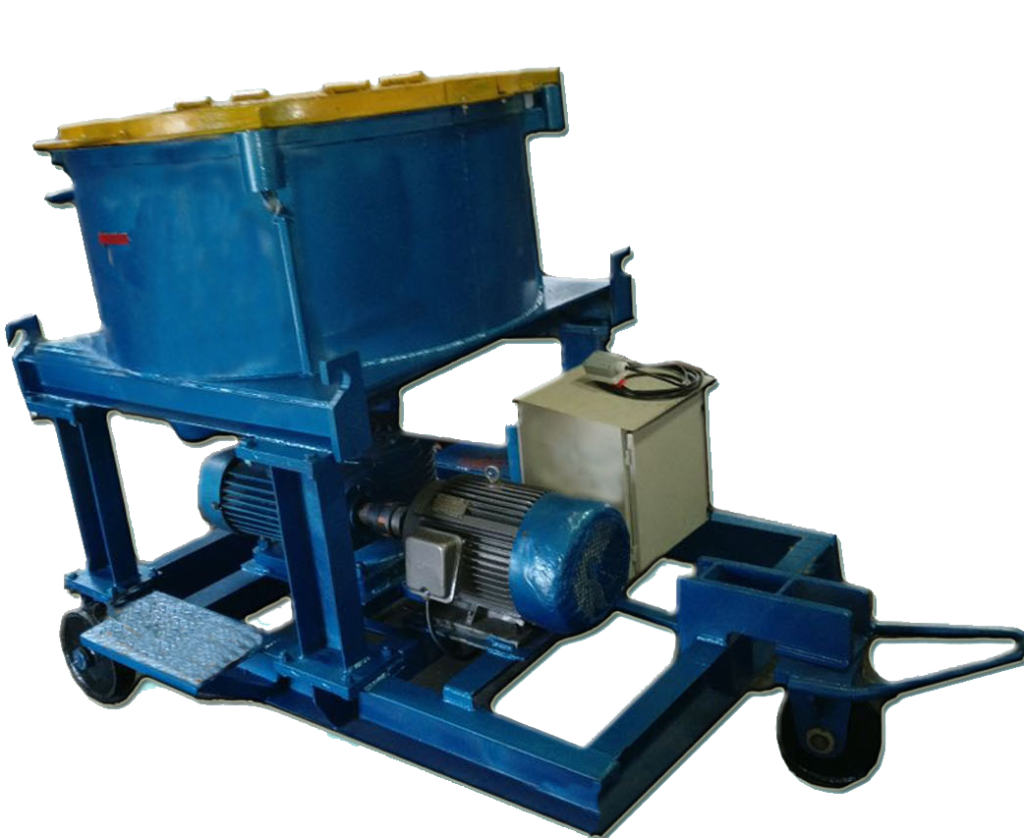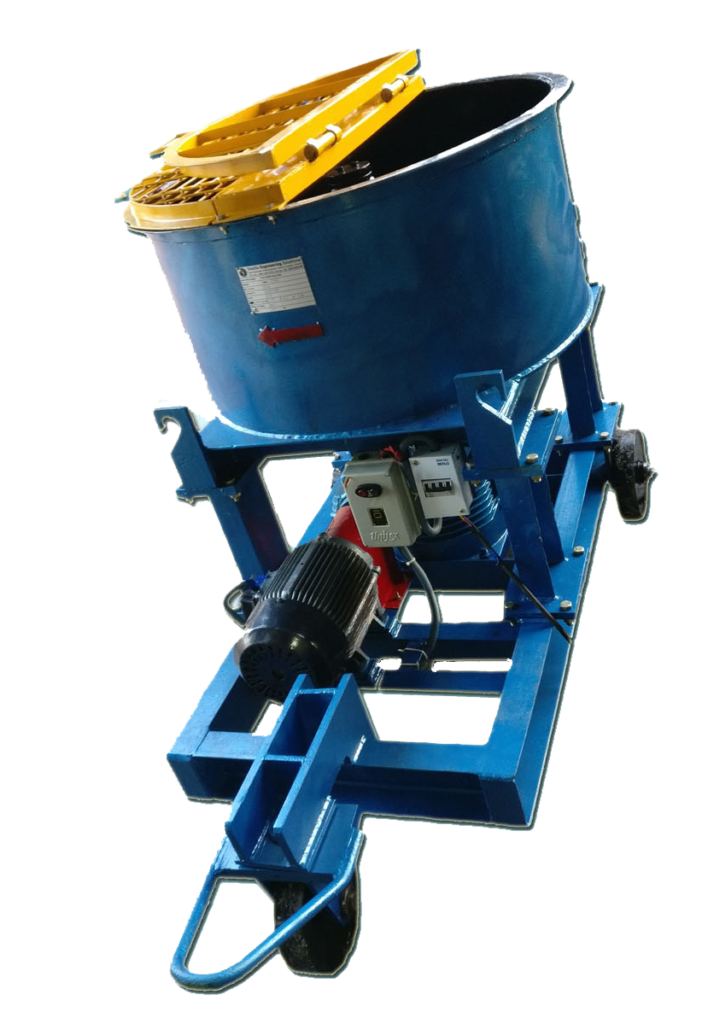 Pan Mixer Machine 250
Specifications
Model                                                                PMM-250


---

Capacity                                                            250 Kgs


---

Machine Dimensions                                      1.9 x 1.1 x 1.4 m


---

Motor Capacity                                                10 HP, 1440 RPM


---

Electric Supply (AC)                                         415 V, 3 PH , 50 Hz


---

M.C. RPM                                                          29


---

Pan Diameter                                                  1000 mm


---

Gear Box                                                          Shanti Gear Box,                                                                                               Type: FV 6 Inch,                                                                                                 Ratio – 50:1       


---

Coupling                                                           Pin Bush Coupling                                                                                           (Fenner FBC 6)


---

Total Weight                                                    1000 Kgs
Design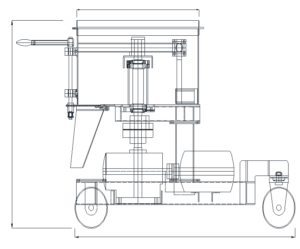 Pneumatic Vibrator Machine
Specifications
Model                                                     SES/IV/P-60


---

Machine Dimensions                           0.382 x 0.364 x 0.863 m


---

Working Capacity                                 6 Bar


---

Vibrator                                                  P-Type, Pneumatic Impact Vibrator,                                                                          OLI Make, P60 Type, Weight 11 Kg


---

FRC-½-D-MIDI-A-159591                      Air Pressure System. Festo make Air                                                                         Filter Regulator Lubrication Service Unit


---

Air Conjunction                                     0.5 m³/min       


---

Vibrations per Minute (VPM)              2100 


---

Weight                                                    23 Kgs


---
Design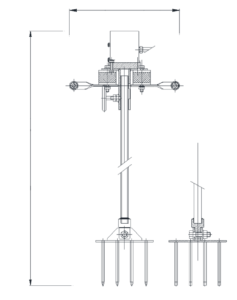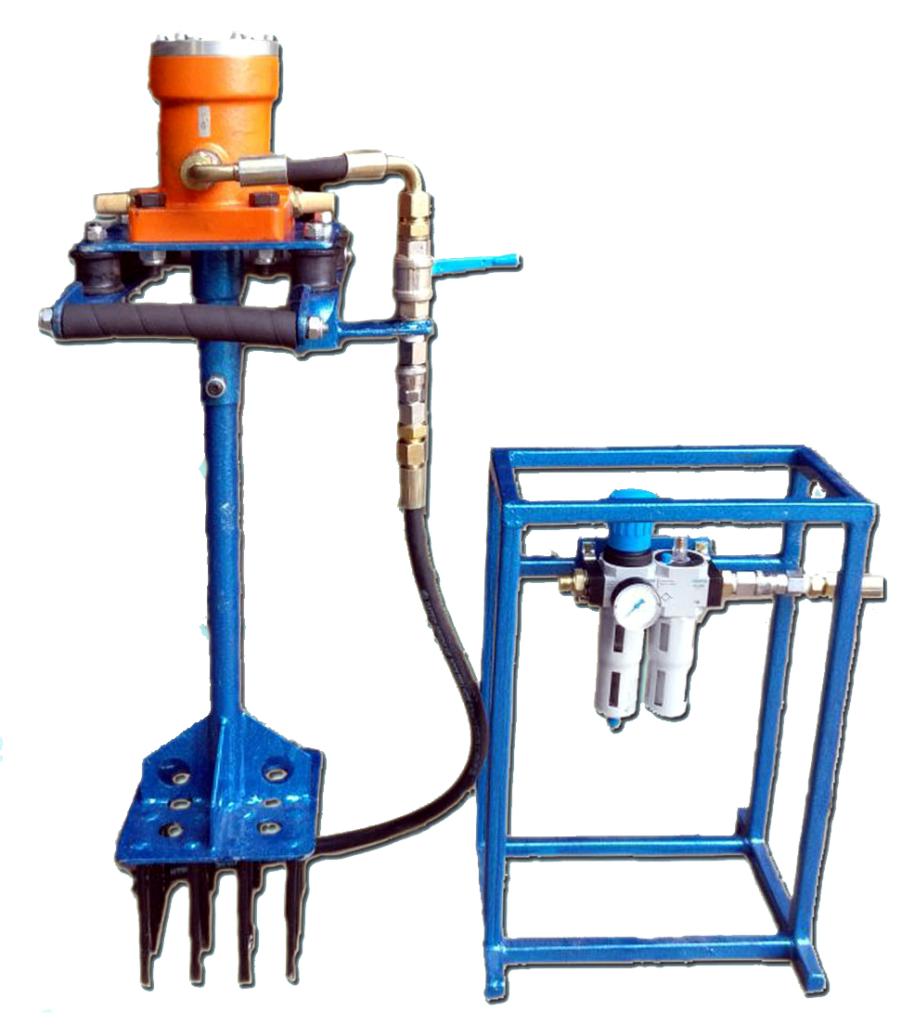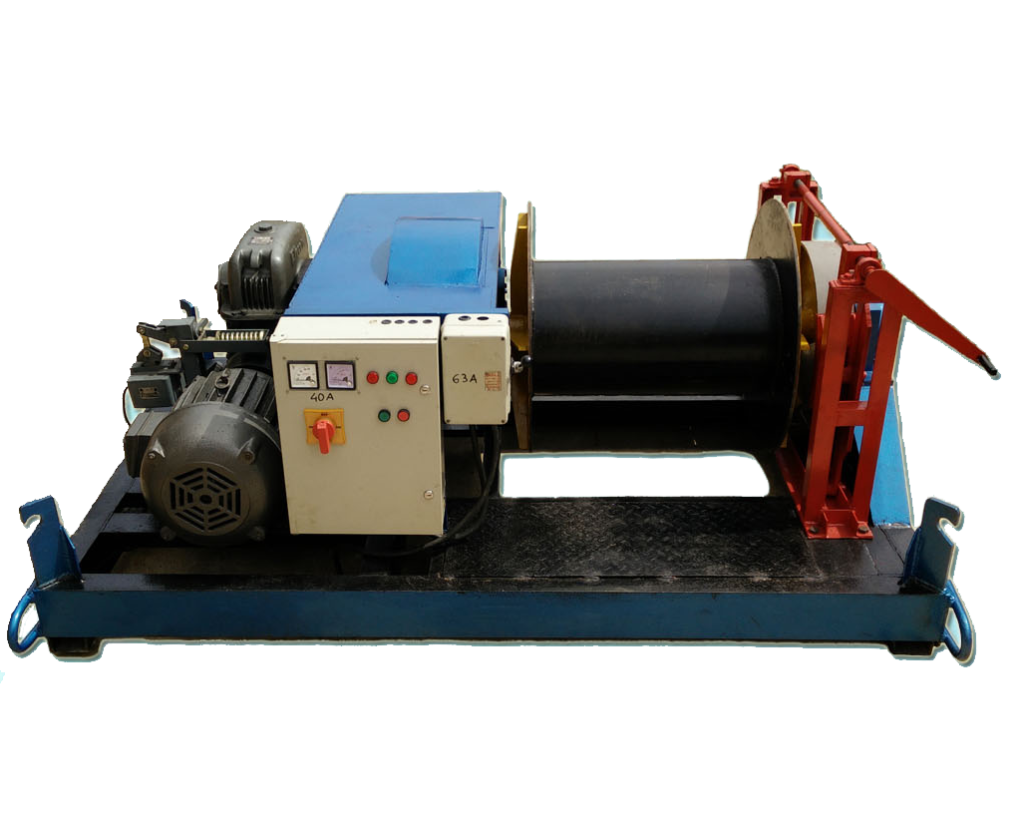 Power Winch Machine
Specifications
Model                                                               PWM-3T


---

Motor Capacity                                               10 HP, 7.5 Kw, 415 V, 3 PH, 50 Hz, RPM 1440 


---

Drum Dia                                                         300 mm


---

Gear Box Size                                                  8 Inch (Ratio 40:1)          


---

Machine Dimensions                                     2.0 x 1.4 x 0.6 m 


---

Wire Rope Speed                                            9.9 mtr/min


---

Wire Rope Diameter                                      12 mm


---

Minimum Breaking Load                              8670 Kgs       


---

Rope Drum Capacity                                     100 mtr


---

Drum Speed                                                    9 RPM


---

Worm Gear Box                                              5 inch


---

Electric Motor Brake                                       8 inch


---

Minimum Breaking Load                               19.3 Kg (2 PH, 440 V)


---

Hand Operated Screw & Drum Brake         440 mm Diameter


---

Weight                                                              1000 Kgs


---
Design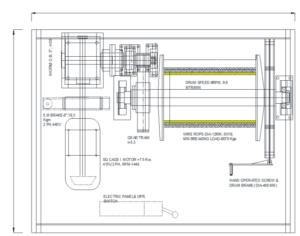 Spraying Machine
Specifications
Model                                                 RSM-DU-150 


---

Capacity                                             90 LPM


---

Dry Mass Process Unit


---

Pump Type                                 Worm Pump (Horizontal Mounting)


---

Drive Pump                                5 HP (3.7 KW), 415 V, 50 Hz


---

Output                                        90 ltr/min (5400 ltr/hr)


---

Machine Dimensions                2.0 x 0.9 x 1.5


---

Wet Mass Pumping Unit


---

Pump Type                                 Worm Pump (Horizontal Mounting)


---

Drive Pump                                10 HP (7.5 KW), 415 V, 50 Hz


---

Hopper Volume                         200 ltr


---

Output                                         90 ltr/min (5400 ltr/hr)


---

Pressure                                      25 bar


---

Delivery Height                          40 m


---

Machine Dimensions                2.2 x 0.8 x 0.8 m


---

Max Aggregate                           8 mm


---

Total Weight                                      600 Kgs


---
Design